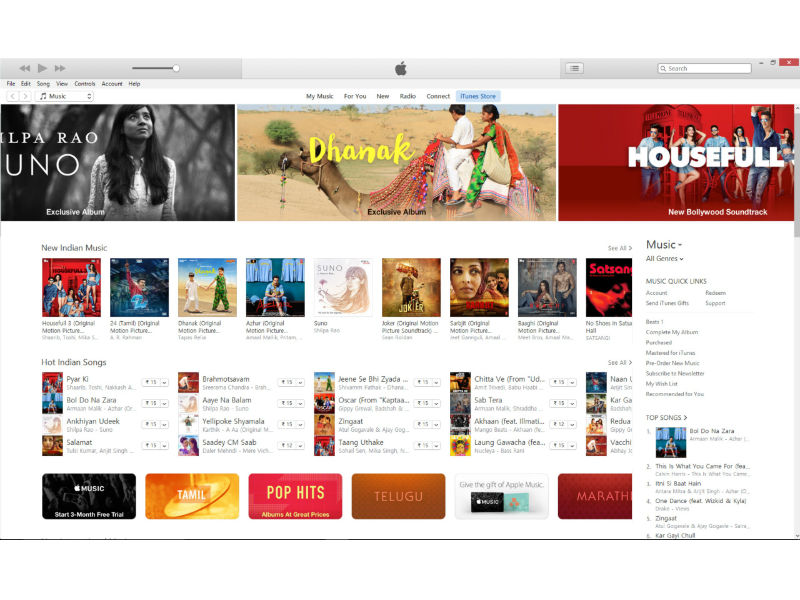 Alongside iOS 9.3.2, Apple on Monday released updates for OS X and iTunes for the desktop. This update brings in a simpler design for iTunes along with other bug fixes.
OS X El Capitan v10.11.5 brings in fixes for Spotlight search, and generally brings improvements in stability, compatibility, and security of Mac devices. On the other hand, iTunes 12.4 update introduces a design revamp. Apple restores the left hand navigation bar that lets you access specific lists in each section. For example, music library is sorted in lists like artists, albums etc.The updated app is availableto download for Windows and Mac.
The icons on the top left have changed. Instead of logos, users can now see the name of the menu options, and can select the desired one by pressing the navigation buttons on the side. The Menu tab only displays three options (Music, Movies, and TV shows) by default, but the user can decide and add which options show up by clicking on the 'Edit Menu' button. The overall layout looks a little inspired by Apple's iOS design.
What Apple has not clearly mentioned is whether this update brings fixes to the iTunes Store that was randomly deleting music from select users' devices. Last week, Apple did say that an update would be rolled out this week with additional safeguards, and we hope that these updates have brought fixes for this bug.
As we mentioned, Apple has also released iOS 9.3.2 for compatible devices. The update is a rather minor one and brings in several bug fixes. The biggest highlight is possibly the restoration of Night Shift in Low Power Mode.