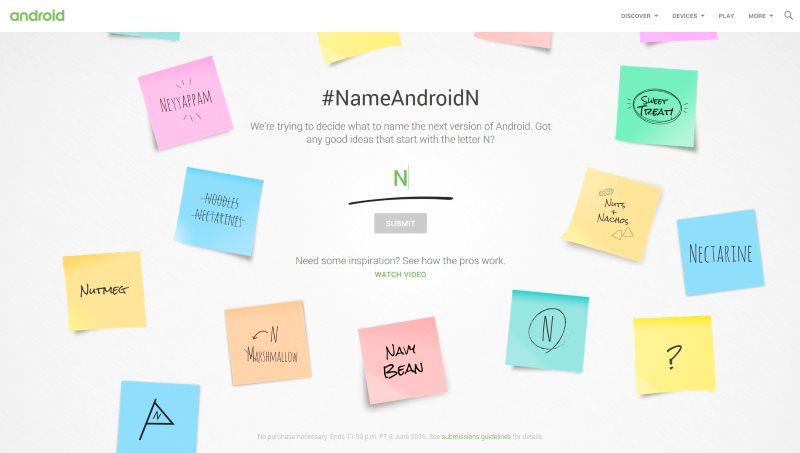 To drum up excitement for the seventh major update to its mobile OS, Android N, Google is opening the playing field to name the new version to literally everyone it seems. It wants you to suggest names for Android N, possibly a dessert, as that has remained the unwritten policy since Android 1.5 'Cupcake'.
For this, Google has created a dedicated page on its Android website where you can go and type in your suggestions for the Android N Name, starting with the letter N (obviously). There is no limit on the length of your suggestion and also no guarantee that your wish will come true. Google said it reserves the right to do as it pleases, citing in the guidelines that "this is solely intended to be for entertainment purposes". And no matter what you say, the page replies with "Sweet!". The site will accept suggestions until June 8, so you have plenty of time to ponder.
Existing suggestions on the site vary from noodles, nectarines, nuts, nachos, navy bean, nutmeg, neyyapam, and even "narshmallow". Google has also taken it upon itself to produce a video meant to serve as inspiration, which you can see below. It comes across as something that you would expectfrom Google on April 1.
Google announced version N back in March, with Hiroshi Lockheimer, SVP Android, Chrome OS & Play, teasing readers about the name by saying: "We're nut tellin' you yet." Many figured he was hinting at the hazelnut spread Nutella, but it remains to be seen if the Italian owners Ferrero have agreed to partner with the search giant