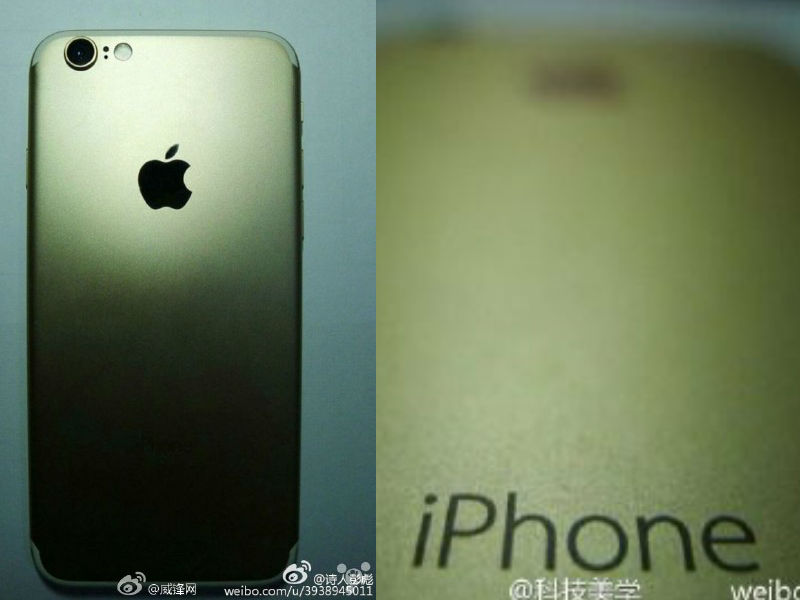 The iPhone 7 is largely rumoured to ditch the antenna bands at the back and sport a clean metal look. Now a new image leak gives us a look at where Apple may be shifting the antenna bands to.
A new image of the iPhone 7 has surfaced on Chinese social networking site Weibo, showing us the new placement of the antenna bands. This image was first reported by LetemSvetemApplem, and it suggests that Apple is looking to shift the antenna bands to the top and bottom edges of the device. The lines will spread through the top and the bottom and end just at the curve.
The image also reveals an additional hole under the microphone opening next to the camera. While one can only make assumptions, a Weibo user seems to think that Apple may be bringing laser autofocus support to the iPhone 7. If this is true, it will significantly improve the smartphone camera's low light performance, and even help focus on objects faster.
There's no dual camera setup that has been largely rumoured, but then again that feature is expectedto be exclusive only to the larger variant – the iPhone 7 Pro or iPhone 7 Plus, and this image seems to be of the 4.7-inch iPhone 7 variant. Sadly, the picture further confirms that the camera bump will stay on the iPhone 7 as well – but does not show if the 3.5mm headphone jack will remain.
The iPhone 7 is heavily expected to come with a Smart Connector, and, there have been conflicting reports about whether the 3.5mm headphone jack will remain. The larger variant will also get a bumpto 3GB RAM to accommodate the dual camera setup. There are also rumours of Apple ditching the aluminium and going for an all glass enclosure for its upcoming smartphone. Lastly, the iPhone 7 is also tipped to be waterproof, and will sport a Force Touch Home button.
In any case, the legit details on the new iPhone devices won't be known till September. Meanwhile, Apple suppliers Foxconn and Pegatron are said to have started mass hiring at their factories in China for the production of the iPhone 7. A Taiwanese report (via CNBC) suggests that Foxconn has listed a job posting on its homepage where they are looking for a large number of urgent workers. This is probably the first time the two companies have started hiring so early, indicating that the new iPhone 7 production may have already begun.