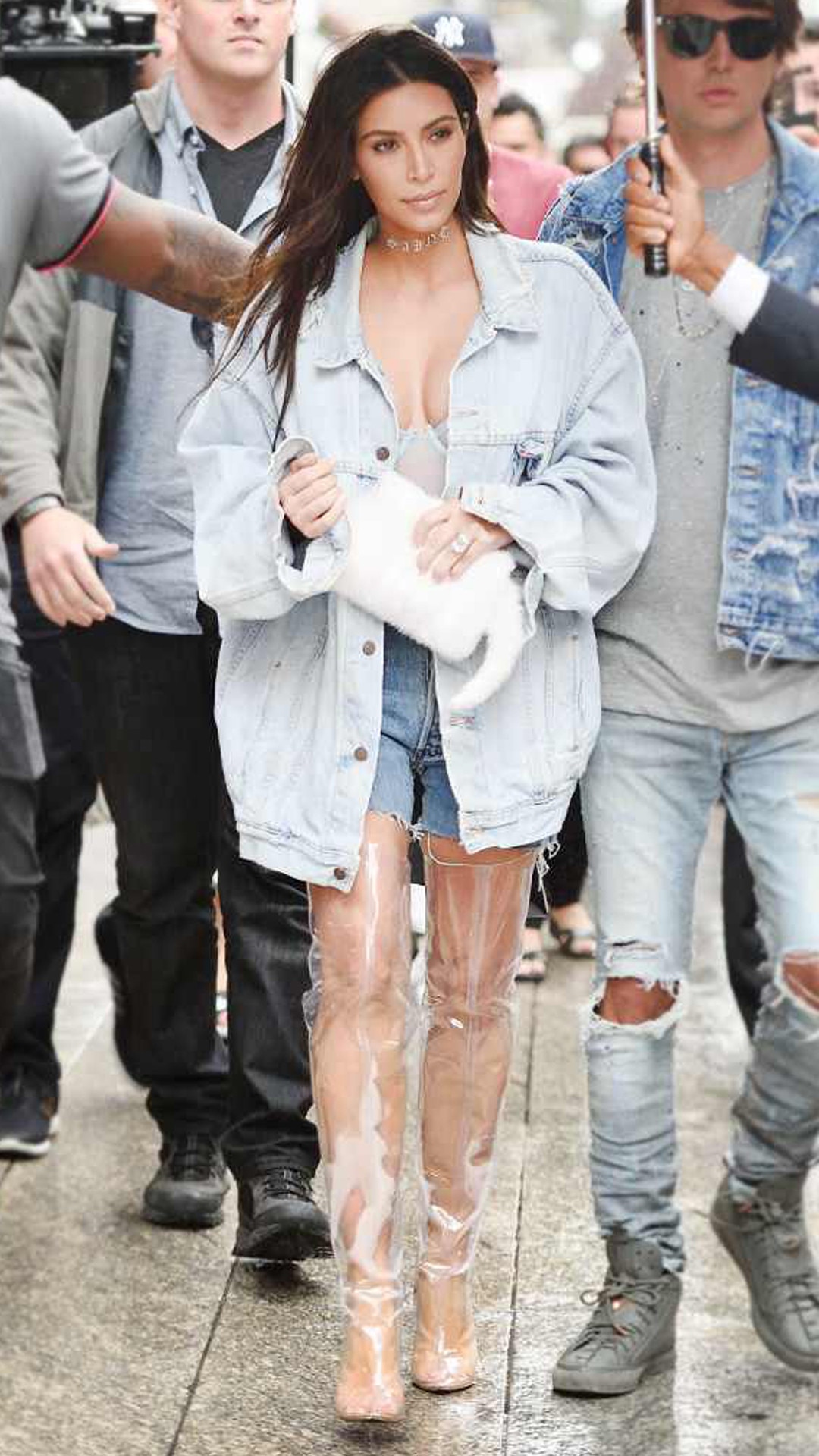 Let's be honest: Rain boots aren't typically sexy…but with the right celeb-inspired styling tricks, they can be.
As you battle against sleet and snow, investing in a pair of waterproof footwear ensures you'll never unexpectedly ruin another pair of beloved shoes again. Find a pair of boots that are so comfortable and flattering, you won't want to take them off. But before you relegate yourself to bulky rubber wellies, just know there's variety.
While Rihanna has worn everything from rhinestone-covered thigh-highs to yeti boots, her choice of practical water-resistant Hunter boots is a winter staple and shows how important a pair of rain boots is in the winter. When selecting a prospective pair of shoes, turning to this classic ensures you're not sacrificing style or insulation.
If you want to make more of a splash, there are so many unexpected ways to debut a new style on a chilly day. For the bold, try Kim Kardashian's clear, thigh-high boots to ensure head-turning reactions. Her boots prove you don't have to put fashion over function, and there's always another way to show some serious leg under an oversized denim jacket or winter coat. They look pretty puddle-proof from here…
To keep your footwear game strong, use these celeb-inspired pairs as your winter inspiration.
MEGHAN MARKLE
Don't underestimate the Los Angeles native's expertise in surviving a cold winter. The Canada-based actress has spent a fair amount of winters in snow and rainy days across the pond. Meghan's quality boots prove her taste in shoes is as refined as her type of man. These Kamik boots are the Prince Harry of footwear—cute, warm and reliable. Just like the Suits actress, make sure to tuck in your leggings or pants for extra warmth. Like her future sister-in-law, Kate Middleton, Meghan knows how to rock budget-friendly fashion.
MILEY CYRUS
The "Malibu" singer is always equipped with a fashion statement and enviable footwear. We love how Miley paired her rainbow and balloon shorts with a white denim jacket and matching knee-high boots. The heeled boots simultaneously serve as a neutral and daring statement. In a sea of plain black leather boots, a heeled boot is a breath of fresh air. Take a style cue from the popstar in outfit coordination. Her white boots further accentuate the charm of her two-piece set. Try picking a single color, like the Voice judge, beside black to stand out.
RIHANNA
Riri knows how to shock fans by wearing $10,000 jeweled YSL boots or posting a pic in thigh-high yeti boots, so seeing her on a causal stroll in wellies was equally unexpected. The "Work" singer let her plain Hunter boots counter her vibrant, fire-engine red parka. The style guru shows us how to balance simplicity in even the most extra outfits. A pair of Hunters are the ever-practical shoe choice for the cold-weather seasons. You can rock them with an oversized parka or your signature black sweatshirt and skinny jeans. The boot's height will protect you from any threatening piles of snow or puddles.
KIM KARDASHIAN
If anyone was born to reinvent the rain boot, it was Kim. Even before Kaia Gerberwore a similar pair on the Chanel runway earlier this year, the Keeping Up With the Kardashian star owned the clear knee-high boot look. While this trend seems insanely intimidating, they are so easy to mix and match in your wardrobe. While Kim kept her legs and feet bare underneath her thigh-highs, a patterned pair of tights or socks—like fishnets—is another way to spice up this pair and add a little extra warmth.