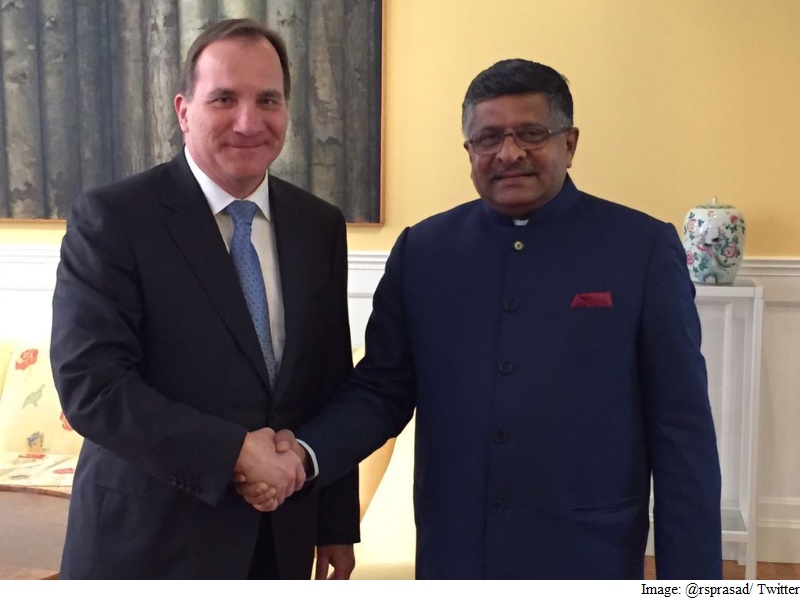 Telecom Minister Ravi Shankar Prasad Monday met Sweden's Prime Minister Stefan Lofven and discussed enhancing bilateral ties between the countries specially in the field of cyber-security.
"Had a great meeting with Prime Minister of Sweden Mr Stefan Lofven. We discussed issues of bilateral cooperation. Swedish PM … recalled his suggestion to work on cyber-security," Prasad said in a tweet.
Prasad is on a three-day visit to Sweden to enhance bilateral ties between the countries.
In February this year, Lofven visited India and met Prime Minister Narendra Modi on the occasion of the 'Make in India Week' in Mumbai.
Around 30 points were identified by the two countries in February for enhancing bilateral cooperation, including Digital India.
"As democracies India and Sweden can work towards safe secure and prosperous world. Swedish PM fully endorsed this idea," Prasad tweeted.
Both nations are committed to promoting human rights online, cyber-security, combat cybercrime, and develop a common understanding on international cyber issues and support an open, inclusive, transparent and multi-stakeholder system of internet governance.
Prasad also visited headquarters of the Swedish telecom gear major Ericsson.
"With 5G prototype in 5G test facility in Ericsson Studio. To be miniaturised into normal mobile size in next 2 years," Prasad said.
Ericsson is at present testing gears for 5G technologies which it plans to start commercialising around 2018. The minister said that Ericsson employs around 22,000 people in India and has been present in the country since last 114 years.