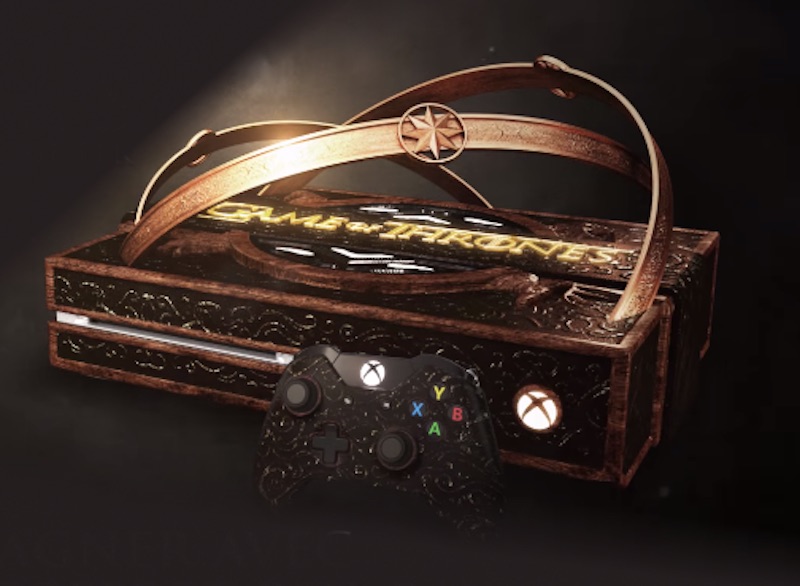 With Game of Thrones' latest season ending today, Microsoft has created six special edition Xbox Ones to mark the occasion. It sports a custom paint job and detailing including a generous amount of metal sticking out from the top. Quite frankly, it won't look out of place in the world of Game of Thrones. Oddly, the console's top vents are amiss, making us wonder how ventilation would be managed in these variants. The controller hasn't been spared either sporting a rather sparkly look to it.
This appears to be exclusive to France and doesn't seem to be for sale. Rather it's available as a prize along with the Blu-ray box set of the show for participating on Xbox France's social media pages.
It's an interesting way to keep the console relevant. Even more so considering that Microsoft's E3 2016showcase resulted in mixed signals about the company's confidence in the console space.
It announced a slimmer, newer, somewhat better performing console in the Xbox One S at the beginning of a conference only to stick an expiry date onto it at the end with Project Scorpio – an even newer, even better performing console that will be out in December 2017.
To make matters worse, Xbox boss Phil Spencer confused everyone with statements on how powerful the Xbox One S is, when compared to the Xbox One. This is contrary to what its own developers claim, and multiple sources close to the company speaking to Gadgets 360 also disagreed with him.
Furthermore, he went on to state that Project Scorpio won't do anything if you don't have a 4K TV and that the Xbox One S is what you need if you're at full HD or 1080p. He then backflipped on this by saying that games like Halo 5 and Gears of War 4 will have a stable 1080p resolution on the Scorpio and not the Xbox One S. It gets worse. Rather than assure gamers that the Scorpio won't get exclusive games or features – something that was stated at Microsoft's E3 2016 briefing – he went on to later say that developers can use its power any way they please, implying the opposite.